The viral iran social media celeb named has been arrested on the basis of blasphemy. Sahar Tabar as so named was arrested for crimes including blasphemy and instigating violence as stated in the iranian local news.
Tabar, who is now 22, shot to prominence on Instagram last year after posting a series of images of her face altered through plastic surgery.
Most of the photos and videos shared with her 26,800 followers have also been heavily edited so that she is meant to resemble Hollywood star Angelina Jolie. (Such a Joke)
With sunken cheeks, a massively plumped up smile and a cartoonishly turned-up nose, she has caused concern over the dozens of cosmetic surgeries she said she had undertaken to resemble the American star.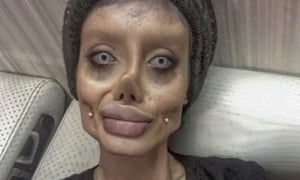 her arrest was strictly based on using social media and her influence as a tool to cause , instigating violence, illegally acquiring property, insulting the country's dress code and encouraging young people to commit corruption.
Tabar's instagram account has been deleted as instragram is the only platform for social media permitted to run in Tehrain.
Tabar (That means others like FB, Twitts etc are banned from the country network)